Her Bizarre Night Guest (기묘한 그녀의 밤손님)
Author: Eunho (은호)
Translator: Monsoon Mangoes
Editor: Lazy Girl T
Schedule: Wednesday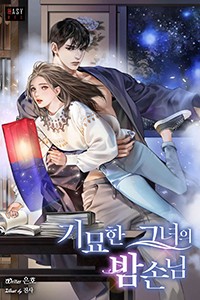 Author Summary:
Lee family books, the book store Joo Hee ran for many years, is notified by a termination of lease out of the blue. Since she cannot sit on the street like a homeless person, Joo Hee visits Park Shin-woo, the owner of the building and chairman of Hansung Group.  But the first meeting with the owner of the building turns into a naked meeting where she happens to run into his bare chest. What was even worse? He has even made a strange suggestion to go out with him for three times without any preconceptions.…. 
"Can I make a suggestion?" 
"What?"
 "If you go out with me three times, I will think about rewriting the Lee family books's lease contract." 
This is the strange romance between Joo Hee, a woman who has to somehow keep Lee family books, and Shin Woo, a man who tries to tie her up. 
'Her Bizarre Night Guest'
---
Prologue
Chapter 1
Chapter 2
Chapter 3
Chapter 4
Chapter 5
Chapter 6
Chapter 7
Chapter 8
Chapter 9
Chapter 10
Chapter 11
Chapter 12
Chapter 13
Chapter 14
Chapter 15
Chapter 16
Chapter 17
Chapter 18
Chapter 19
Chapter 20
Chapter 21
Chapter 22
Chapter 23
Chapter 24
Chapter 25
Chapter 26
Chapter 27
Chapter 28
Chapter 29
Chapter 30
Chapter 31
Chapter 32
Chapter 33
Chapter 34
Chapter 35

Chapter 36
Chapter 37
Chapter 38
Chapter 39
Chapter 40
Chapter 41
Chapter 42
Chapter 43
Chapter 44
Chapter 45
Chapter 46
Chapter 47
Chapter 48
Chapter 49
Chapter 50
Chapter 69