I Became Famous after Being Forced to Debut in a Supernatural Journey (被迫玄学出道后我红了)
Author: Zong Nian (作者:宗年)
Translator: Ciacia
Editor: Ciacia
Schedule: Every Friday and Monday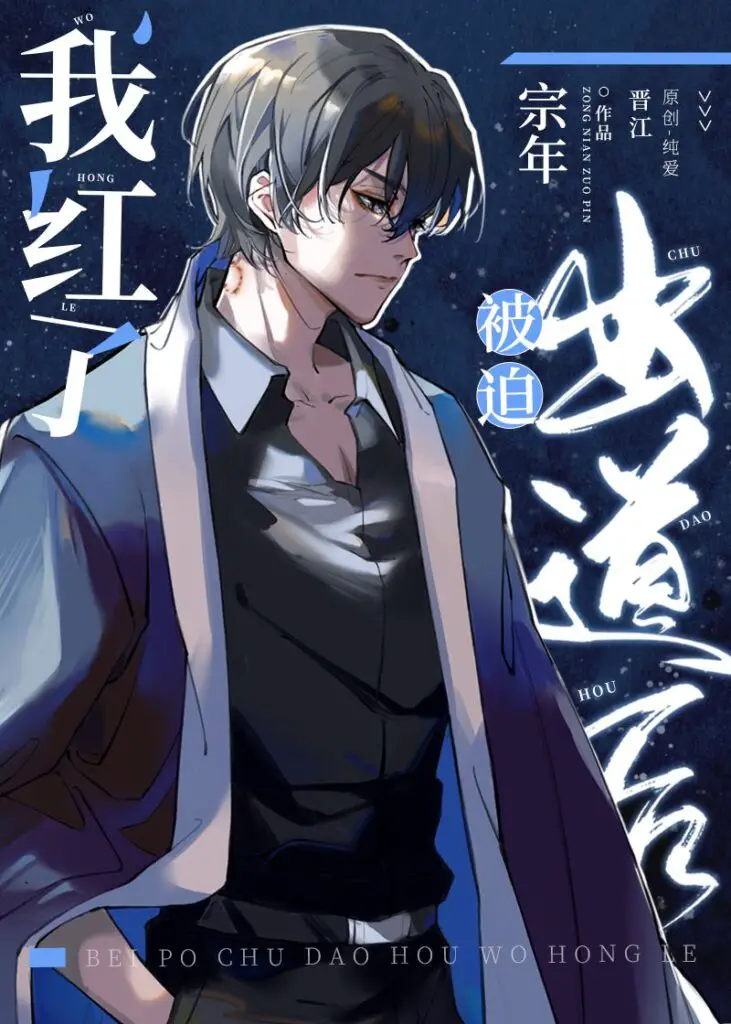 Author Summary:
Yan Shixun had roamed far and wide, making a modest living by helping people exorcist ghosts and dispel evil spirits. He enjoyed a carefree life doing odd jobs for a little extra cash.
However, just when he was living his life on his own terms, his rich third-generation friend who was shooting a variety show couldn't find enough artists to participate and cried out, "Brother Yan, if you don't come, I'll die here!"
Yan Shixun: "…"
He looked at the amount his friend was offering and reluctantly agreed.
As a result, Yan Shixun unexpectedly became an internet sensation!
In the travel variety show that eliminates the worst performance guest, a haunted villa in the woods echoed with ghostly cries at midnight, vengeful spirits surrounded and threatened the guests. Possessed by eerie creatures in a desolate mountain temple, the entire team of artists was on the brink of danger. Sinister forces in rural villages harnessed dark sorcery to deceive and ensnare…
As the viewers watched the travel variety show transform into a horror show, they were shocked and screamed in horror. Yet, amidst this, Yan Shixun remained composed, a gentleman with an extraordinary presence.
Yan Shixun plucked a leaf and turned it into a sword, piercing through the evil spirit's chest. With a burning yellow talisman in hand, he forced the malevolent entity to flee in panic. With a single command, he sent the Ten Yama Kings quaking, instilling fear in the Yin officers.
The audience stared in astonishment.
However, Yan Shixun calmly dealt with the ghosts and spirits while confidently explaining to the camera with a disdainful expression.
He looked pessimistic and said, "Read more, believe in superstitions less. What ghosts? Everything is science." 
The enlightened audience: This man is amazing! Master, I have awakened.
The audience went crazy with their votes, and Yan Shixun's popularity soared.
Yan Shixun, who originally thought he would be eliminated in a few days: Miscalculated!
As they watched the live broadcast of Yan Shixun becoming increasingly indifferent, cynical, and wanting to be eliminated, the audience became even more excited: Is there anything more attractive than an idol who promotes science with a touch of mystique? All major companies, please sign him and let him debut!
For a while, Yan Shixun's name became a sensation on the internet, and entertainment industry giants and influential fortune tellers came knocking at his door.
Yan Shixun sighed deeply: "I won't debut! I won't date or build a fanbase! Just leave me alone; all I want is to exorcist ghosts in peace!"
A certain bigshot from the ghost world wrapped his arm around Yan Shixun's waist from behind: You can consider dating… me.
Content Tags: Strong Pairing, Supernatural, Entertainment Industry, Live StreamingSearch Keywords: Protagonists: Yan Shixun, Ye Li ┃ Supporting Roles: Prequel "Forced to Become Emperor After Transmigrating" ┃ 
One-sentence Synopsis: Want to go home, want to lie down and rest in peace, don't want to debut.
Concept: Science is Power
---
Chapter 1
Chapter 2
Chapter 3
Chapter 4
Chapter 5
Chapter 6
Chapter 7
Chapter 8
Chapter 9
Chapter 10
Chapter 11
Chapter 12
Chapter 13
Chapter 14
Chapter 15
Chapter 16
Chapter 17
Chapter 18
Chapter 19
Chapter 20
Chapter 21
Chapter 22
Chapter 23
Chapter 24
Chapter 25
Chapter 26
Chapter 27
Chapter 28
Chapter 29
Chapter 30
Chapter 31
Chapter 32
Chapter 33
Chapter 34
Chapter 35
Chapter 36
Chapter 37
Chapter 38
Chapter 39
Chapter 40
Chapter 41
Chapter 42
Chapter 43
Chapter 44
Chapter 45
Chapter 46
Chapter 47
Chapter 48
Chapter 49
Chapter 50
Chapter 51
Chapter 52
Chapter 53



Chapter 54
Chapter 55
Chapter 56
Chapter 57
Chapter 58
Chapter 59
Chapter 60
Chapter 61
Chapter 62
Chapter 63
Chapter 64
Chapter 65
Chapter 66
Chapter 67
Chapter 68
Chapter 69
Chapter 70
Chapter 71
Chapter 72
Chapter 73
Chapter 74
Chapter 75
Chapter 76
Chapter 77
Chapter 78
Chapter 79
Chapter 80
Chapter 81
Chapter 82
Chapter 83
Chapter 84
Chapter 85
Chapter 86
Chapter 87
Chapter 88
Chapter 89
Chapter 90
Chapter 91
Chapter 92
Chapter 93
Chapter 94
Chapter 95
Chapter 96
Chapter 97
Chapter 98
Chapter 99
Chapter 100
Chapter 101
Chapter 102
Chapter 103
Chapter 104
Chapter 105
Chapter 106
Chapter 107
Chapter 108
Chapter 109
Chapter 110
Chapter 111
Chapter 112
Chapter 113
Chapter 114
Chapter 115
Chapter 116
Chapter 117
Chapter 118
Chapter 119
Chapter 120
Chapter 121
Chapter 122
Chapter 123
Chapter 124
Chapter 125
Chapter 126
Chapter 127
Chapter 128
Chapter 129
Chapter 130
Chapter 131
Chapter 132
Chapter 133
Chapter 134
Chapter 135
Chapter 136
Chapter 137
Chapter 138
Chapter 139
Chapter 140
Chapter 141
Chapter 142
Chapter 143
Chapter 144
Chapter 145
Chapter 146
Chapter 147
Chapter 148
Chapter 149
Chapter 150
Chapter 151
Chapter 152
Chapter 153
Chapter 154
Chapter 155
Chapter 156
Chapter 157
Chapter 158
Chapter 159
Chapter 160
Chapter 161
Chapter 162
Chapter 163
Chapter 164
Chapter 165
Chapter 166
Chapter 167
Chapter 168
Chapter 169
Chapter 170
Chapter 171
Chapter 172
Chapter 173
Chapter 174
Chapter 175
Chapter 176
Chapter 177
Chapter 178
Chapter 179
Chapter 180
Chapter 181
Chapter 182
Chapter 183
Chapter 184
Chapter 185
Chapter 186
Chapter 187
Chapter 188
Chapter 189
Chapter 190
Chapter 191
Chapter 192
Chapter 193
Chapter 194
Chapter 195
Chapter 196
Chapter 197
Chapter 198
Chapter 199
Chapter 200
Chapter 201
Chapter 202
Chapter 203
Chapter 204
Chapter 205
Chapter 206
Chapter 207
Chapter 208
Chapter 209
Chapter 210
Chapter 211
Chapter 212
Chapter 213
Chapter 214
Chapter 215
Chapter 216
Chapter 217
Chapter 218
Chapter 219
Chapter 220
Chapter 221
Chapter 222
Chapter 223
Chapter 224
Chapter 225
Chapter 226
Chapter 227
Chapter 228
Chapter 229